Newegg's new Top Rated program for sellers, allows us to shine the spotlight on exceptional sellers. As a customer, you'll have easy visibility of which seller qualifies through a Top Rated sellers badge found on product pages.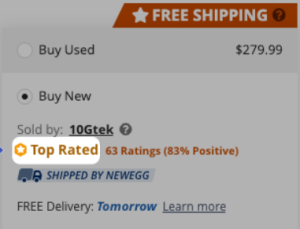 What defines a seller as "Top Rated"?
Over 100 closed orders successfully from the last 60 days.
Low Negative rating.
High percentage of On-time replies.
On time delivery for items sold and shipped by the seller.
A seller seems to have a low rating, why do they have a "Top Rated" badge?
A seller's rating overall will represent their lifetime rating, however, in order to meet our "Top Rated" seller standards we continually review our sellers' most recent stats on a daily basis so that badge you see on the page is well deserved. Continually reviewing sellers ensures our "Top Rated" sellers are up to date and relevant, providing you with great service you can trust.