Orders take 1-2 business day to process before leaving the warehouse, this includes Marketplace orders. You will be notified via email once your order has been created as well as once your order has shipped.
This tutorial will guide you through the process of how to check the status of an order and on the Newegg.ca app.
Checking the status
Click "More" found in the upper-right hand corner of the app then in the drop down select "Account" or scroll towards the bottom of the app and select "Account".

Once in your account, you have the following options available:
Click on Order History to find detailed information on your order.
You can take a look at the Prepared, Shipped, and Returns icons to see if any orders fall under these categories. A number will show up next to these icons to tell you how many orders there are for each one.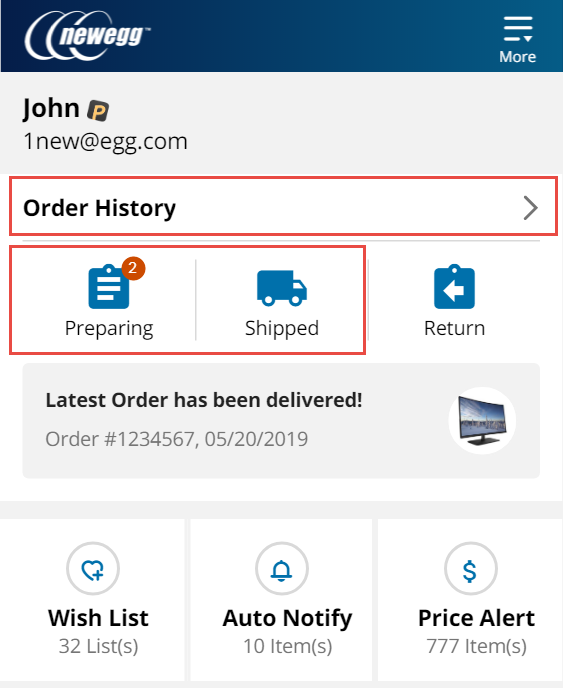 Order History
From within the Order History you can view the orders you placed, update any declined payments and view return information. Click on your order to view further Order Details.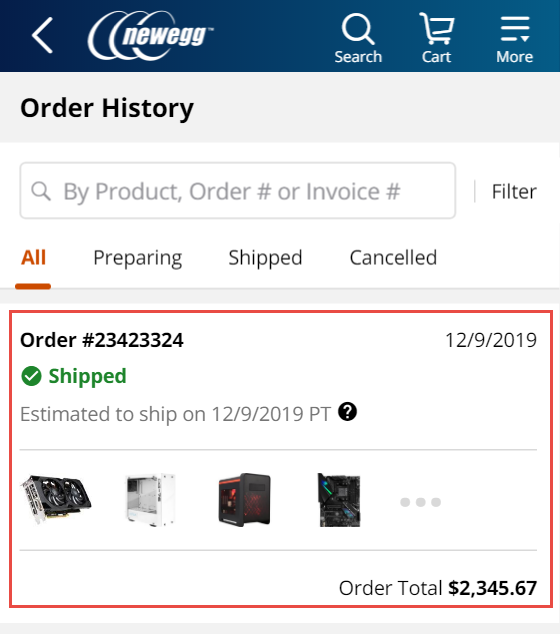 Order Details
In your Order History you can click on your order which will take you to Order Detail. In the Order Detail you can find your tracking status, tracking numbers, the billing and shipping address, price of all the items, discounts on the order and the seller name (if it's from a marketplace seller).
Tracking Details
When you click on the tracking number for a package, you will be able to see more information on where the package is.